19 mai 2005
Little Princess
La Petite princesse

(source photo)
The Little Princess
1939 - Etats-unis - Comédie dramatique - 1h33

Réalisation : Walter Lang
Avec Shirley Temple (Sara Crewe), Richard Greene (Geoffrey Hamilton), Anita Louise (Rose Hamilton), Ian Hunter (Capitaine Reginald Crewe)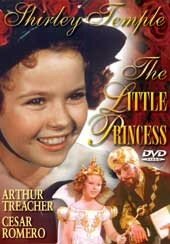 L'histoire de "La Petite princesse"
(source photo)
Dans l'Angleterre victorienne, le Capitaine Reginald Crewe est mobilisé pour la guerre des Boers. Veuf, il inscrit sa fille Sara dans un prestigieux pensionnat de jeunes filles tenu par Mlle Minchin. D'abord l'objet de toutes les attentions, la vie de la "petite princesse" est bouleversée lorsque son père est déclaré mort.
L'enfant devient le souffre-douleur de l'établissement.
---
Stream (help)
64Kb MPEG4 (dialup)
256Kb MPEG4 (broadband)
Download (help)
SHIRLEY TEMPLE
Née le 23 Avril 1928 à Santa Monica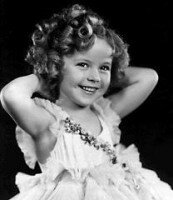 Les affiches de quelques films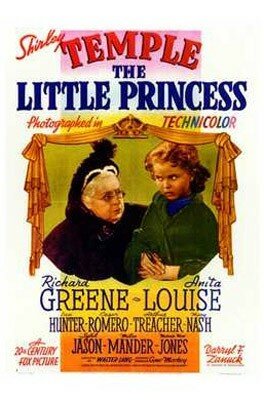 Vue de la Rue Poissonière en 1939 et de l'entrée du Grand Rex, qui présentait le film Petite princesse avec Shirley Temple en vedette. © Le Grand Rex
Critiques:
In short the story line is very simple. After living a coddled life in India, pretty Sara Crewe goes off to boarding school in England while her father goes to fight the Boer War for his Queen. Though she gets pleasure from the interest of tutor Miss Rose and the good-looking riding tutor who is wooing the teacher, Sara abhors unbending headmistress Miss Minchin. When Sara's father is reported among the dead, the headmistress coerces the girl to become a servant and stay in the attic.
But adorable scullery maid Becky and a kind-hearted Indian man next door make Sara's life bearable while she seeks out for her father, whose death she repudiates to admit. Though she gets in difficulty for escaping her chores, the little princess dreams of a better life as she haunts the veteran's hospital, hoping for a marvel. In the end, her resilience pays off.
And now I must inform you that anyone fondly remembering Francis Hodgson Burnett's novel should try to forget it before viewing this film. THE LITTLE PRINCESS has some good points - beautiful costumes, excellent sets, a dramatic historical backdrop - but Shirley Temple's Sara Crewe can be quite grating. When she's supposed to be suffering, which is often, she's whiny and petulant. When she's supposed to be cheerful, she looks phony, particularly in a couple of ridiculous dance numbers thrown in for her fans.
But still WORTH A WATCH – interesting, entertaining, cool.
Manavkaushik
The film certainly has its flaws, but after you watch it, they all fade away and what remains is the memory of a fantastic Shirley Temple performance. Watch this film and you'll see why she was THE most popular actor (child or adult) for most of the 1930s. In fact, I think she gives her best-ever performance in this particular movie. Sarah Crew's reversals of fortune are compelling, and Shirley does a terrific job conveying this intelligent, kind-hearted little girl's joys and sorrows. She shows a great range of emotions as a child bravely coping with one loss after another, and never becomes cloying or sappy (unlike the annoying love story involving secondary characters). Song and dance are used sparingly, except for the dream sequence, and that makes them all the more appreciated when they do appear. Only the dream sequence is the sort of ham-fisted, ultra-cutsey fluff for which modern audiences often (unfairly) ridicle Shirley Temple and dismiss her genuine talents as an actor. I'm a fan of the book, too, and a big fan of the 1995 remake of "A Little Princess" with a very talented actor named Liesel Matthews in the lead. But no one should sell Shirely short. She really had a special talent, and used it to the fullest in this movie.
Ella Greggs
Shirley Temple in a visually gorgeous movie that occasionally has something to do with the book
If you really don't care that the movie "A Little Princess" with Shirley Temple has a good bit of material in it that has nothing to do with the book of the same name by Francis Hodgson Burnett, then you'll probably enjoy the movie more.
Shirley Temple plays a young girl attending Miss Minchin's Seminary for Young Ladies. When her father is reported as killed in the Boer War, Shirley is cruelly exploited by the cold, uncaring Miss Minchin. But she continues to hope against hope that she will see her father again, and she does at the end, and sees Queen Victoria as well.
Gratuitous thwarted romance between Richard Greene and Anita Louise. Extended production dream sequence with ballet dancers. Gratuitous, but fun songs and dances with a young Arthur Treacher. A little something for everyone.
DouglasBass
---
Commentaires
Poster un commentaire